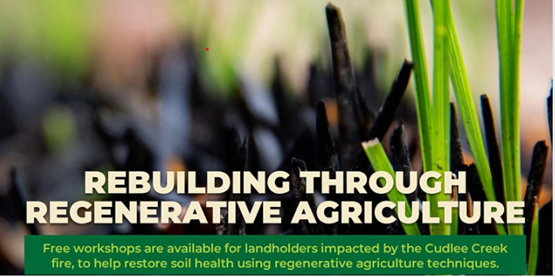 To assist the Adelaide Hills community recover, NASAA Organic is bringing together leading experts in the regenerative and organic industry to share their knowledge and expertise in rebuilding properties to restore and sustain plants, animals and people.
We will address previously identified problems that follow devastating fires, such as:
How to Transform your property through Regenerative Agriculture.
The importance of the organic matter and plant nutrients in the soil and the changes in the soil following a fire and provide valuable techniques for assessing soil health.
Restoring soil health using biological inputs, including the use of recycled organics, regenerative agriculture, and improving organic matter to benefit the landowner's entire ecosystem.
Identify and discuss the more critical fire-related changes occurring in soils that affect post-fire management and how to improve soil structure and water holding capacity.
The intense impact of fire on soil and the environment requires specific land management practices to address issues, such as the loss of carbon in the soil, fertility and the threat of weed incursions.
The information will be presented monthly across three one-day workshops (including a field day).
The workshops are available to farming landholders affected by the Cudlee Creek and Cherry Gardens bushfires.
These workshops are made possible through the generous donations of Hills & Fleurieu Landscape Board and Bendigo Bank.